posted Monday, 6 September 2004
I have been home from camping for about an hour. I put away perishables. The crowd around the bathroom has not cleared. I checked my email. There is lots of work to do, but Debi has already posted and I want to post too. The Robarts and Hinds went camping at Power Pines, a SMUD employee association campground up in the Sierra Nevadas. Except Joseph who said he has had enough camping with our trip to Florence and with Scout Camp. We missed him a lot, but there were moments when I understood his view. (See list of bad things)
Bad things about our camping trip.
Today I feel asleep with Esther on my lap. She fell off, bumped the table and fell face first in the dirt. Ruth was very nice about it and Esther recovered quickly.
Apparently the whole time we were driving to camp, my Palm pilot was being pressed to go on. By the time I looked at my Palm, it had run it's battery down and gotten complete amnesia. The good thing is that I was able to restore most of it when I got home.
Joseph stayed home.
I had thought before we left Saturday that I should hot sync my palm, but I didn't. So, my Palm has short term memory loss, probably for the last week or so. I hope I didn't enter any really important appointments.
The ground was HARD. I didn't sleep well. Hence bad thing # 1.
It was dry and dusty!
We didn't attend church. Glen gave us the Sunday School lesson - building on the foundation of Christ. But I missed church. Next time, we will work it out, even though the nearest town is 30 miles away
bugs, mostly annoying more than biting
lots of great food ( I ate way too much, especially cookies, etc )
We had gotten the impression from Tom that there were not many trees in the campground, but we were in a different area than they were last time and we had plenty of trees. It was actually quite pretty.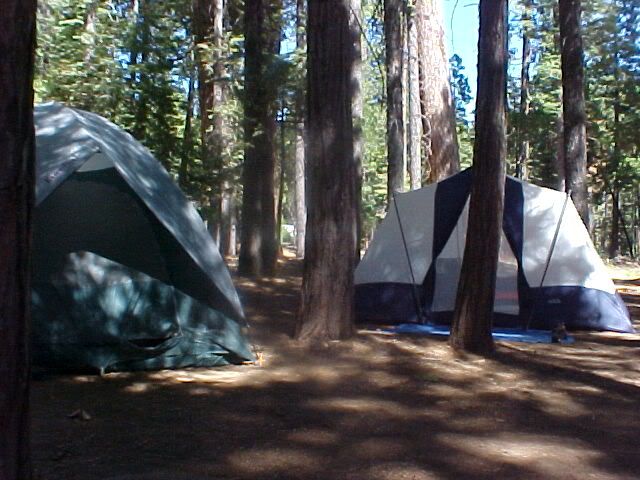 Good things about our camping trip.
Esther, Ruth and Tom (Debi took this picture with her camera)
the rest of the family (jk I love you guys)
a break from the normal work and worries
lots of great food
everyone helped

everyone relaxed and played

decent bathrooms and free showers
a nice playground for the kids

mountains
trees
birds and chipmunks
no bears or skunks (they are fine animals, but not in camp)
Joseph had a quiet peaceful weekend
One of the most common sights at camp,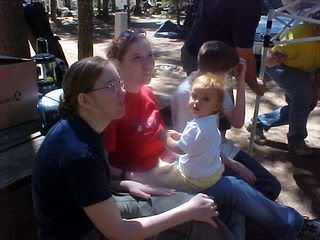 the girls holding Esther. Another common sight, especially the first day,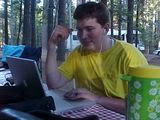 David and his new friend "Hal" who will be his study partner at Cal Poly. Andrew especially enjoyed sawing logs.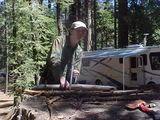 literally. And we were all glad!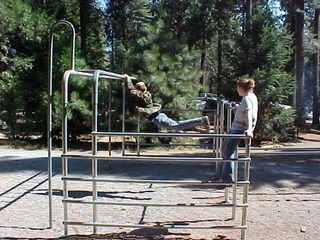 Andrew leaping from one piece of equipment to another.
My turn for the shower. Maybe more pictures later. If you want the unguided tour, go to
Photobucket.com.
Type in my album name "barbarar" Go to "Outings" > "Labor Day Camp 2004" I hope you had a happy weekend and have a happy week. I am thankful for all the above things, and now, especially for my shower.