Spring has sprung here. In fact, already some of us are starting to complain about being too warm. Not everyone. The other day a gal at work was complaining about the cold morning. I was astounded. It was in the 50's when I Anna and I went to the dog park around 6:40 and I was thinking that it was more than warm enough!
Blessings upon blessings. Last night after I had been home awhile, I realized I didn't know where my Palm (PDA) was. I distinctly remembered putting it in my bag before leaving work. I also remembered my bag being jostled on the train. One of the boys looked in the car without success and we looked all over the house thinking I had put it down somewhere. nothing. In Family Prayer, Glen prayed for me to find it. In personal prayer, I did to, but also asked for faith and calm whether I did or not. Almost all the information is saved on the computer, but would I shell out for another PDA or go back to paper ? Either way, it would be awhile before things got back together. This morning on the way back from the dog park, I heard it reminding me about my Bloodsource appointment. Happy Day! It was on the floor of the car.
Even as I type, Glen and the boys are wrestling his bed pieces through the house. He is actually moving out today! The boys and I are excited about the possibilities. What a lot of work we have to do! years and years worth. As we can gather our minutes and our pennies.
Friday I signed papers for a loan for the house! With my credit union, USE. 30 year 6.375% - lower minimum payments than I have now and no pre-payment penalty. I think it is a good deal. The only thing left is for Glen to sign a release. He talked to his lawyer who said wait for some paper or other, he didn't remember
what., and that his lawyer had written to my lawyer, but not heard back. (I know the feeling! I will call his office Monday.) They want to make sure I am legally promising not to rip Glen off. (Of course, definitions may vary. ) They proposed that the IRA(s?) be his personal property. I think not.
Closer and closer to get things settled and completed!
Glen has completely redone his house and filled it with all new stuff. Which means he is leaving pretty much everything else in the house for us. Old stuff, but mostly working so far. I had thought that we would be dividing appliances and such. Relieved not to be! Ben thinks he is even leaving his old tools as he thought he saw new stuff in the garage. I don't know what he might want to come back for later, but at least for now we will have everything we have had all along.
A lot of stuff is going to have to go so we can really get our house right for us. I am not the only one with clutter collection problems, Although we, in theory, know that we only want to keep things that are useful, beautiful and/or sentimental, in practice we have problems. For some reason it is hard for us to sort and throw. But we have dreams about how we want the house, so we are going to dig in and do it - a little at a time.
I am moving into Glen's old room, which was Debi's before that. She painted it off white and put a pretty leafy boarder around the top. Glen put in venetian blinds which I am sure he is leaving.
As soon as we get my junk out of the master bedroom, we are going to rip out the old green carpet and paint the room with an under the sea theme. The initial inspiration was the old beat up bunkbeds -shipwreck! We are going to paint the walls watery blue. Maybe paint a sunken ship or two and some seaweed. Once it is painted we are going to do a kind of glaze to make it watery and wavy looking. We are hoping to find removable fish decals that the boys can arrange and re-arrange. They want to paint the double closet door with a shark that eats little fish when you open the door.
Then, the room that is now Joseph's. (All 3 boys will share the master bedroom) We have treat the peeling wallpapered walls. Then we want to paint the ceiling like a sky and the walls like a forest. Eventually, it will be our "office." Before that, it will be storage space while we work on room other things.
Number 3 -
Either the living room which I want to feel light and airy and a bit like a English country garden, or the family room which will be a day at the beach. I found a painting that I want in the living room (a print, of course). It was in the office where I was signing my loan papers. "Guardian of the Sea" by Nicky Boehme - in the style of Thomas Kincaid, but I actually like her work even better, I think.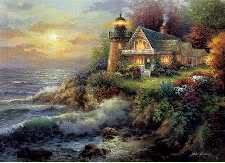 My dream home!
Hopefully somewhere in the middle of all that, we hope to get the walls of the bathroom that was remodeled last summer correctly plastered. The guy that did it did a blotchy job, neither smooth nor textured. We will paint it blue. The question is will we leave it plain blue or add cloud effects. The blotchy white plaster over green whatever board has a little bit of cloud effect which I like.
The kitchen - I don't know what or when! It will take thousands of dollars. IF (and that's a big IF) Glen pays me back for the car, we can do something. After the family room gets more or less cleared out, because everything, EVERYTHING will have to come out of the kitchen. I still don't know what color I want it to be. Dining room either. But the dining room will probably be the same color as the living room or close. The living room hasn't actually settled on a wall color yet. fun fun fun.
Thankfully -
* I suppose some might think it a sin to be thankful for a divorce, but I am and for the many, many blessings I have received in association with it
*my Palm
*computer back up
* 8*3*4
* prophets
* books
* printing presses
* the ability to read
* good friends!
* my house and home, humble though it be