I am glad you came by to visit. I would enjoy hearing from you.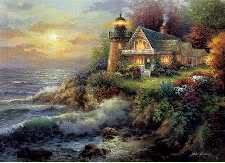 "Guardian of the Sea" by Nicky Boehme
Monday, July 13, 2009
sporting good company
A year or so ago I bought a High Sierra Hydration Pack for biking, hiking, whatever. It has been tucked away in my closet for awhile. Since I started biking, first to light rail, then all the way to work, I hauled it out, but alas! I seem to have lost the slide closure for the reservoir - making the hydration pack useless. I emailed High Sierra Sport Company to find out how I could get a new closure slide. Valerie at Customer Service said she couldn't get me a closure, so she sent me a new reservoir. It arrived today. That's customer service!
Posted by

Barbara Robarts
at 6:56 PM